Jiangsu XCH Biomedical Technology Co., Ltd. is a wholly-owned subsidiary of Labonce, located in Taizhou Economic and Technological Development Zone, Jiangsu Province. It focuses on the research and development of temperature and humidity technology in the biomedical industry. The company has its own standard workshop and sheet metal processing equipment. And constant temperature debugging laboratory, passed ISO9001:2015 quality system certification and CE certification, and obtained corresponding production qualifications. The main products are medical refrigerators, pharmaceutical refrigerators, low temperature storage chamber for medical, medical stability test chambers, walk-in constant temperature and humidity test chambers, strong medical photostability test chambers, constant temperature and humidity chambers, drying oven, incubators and high temperature chamber etc.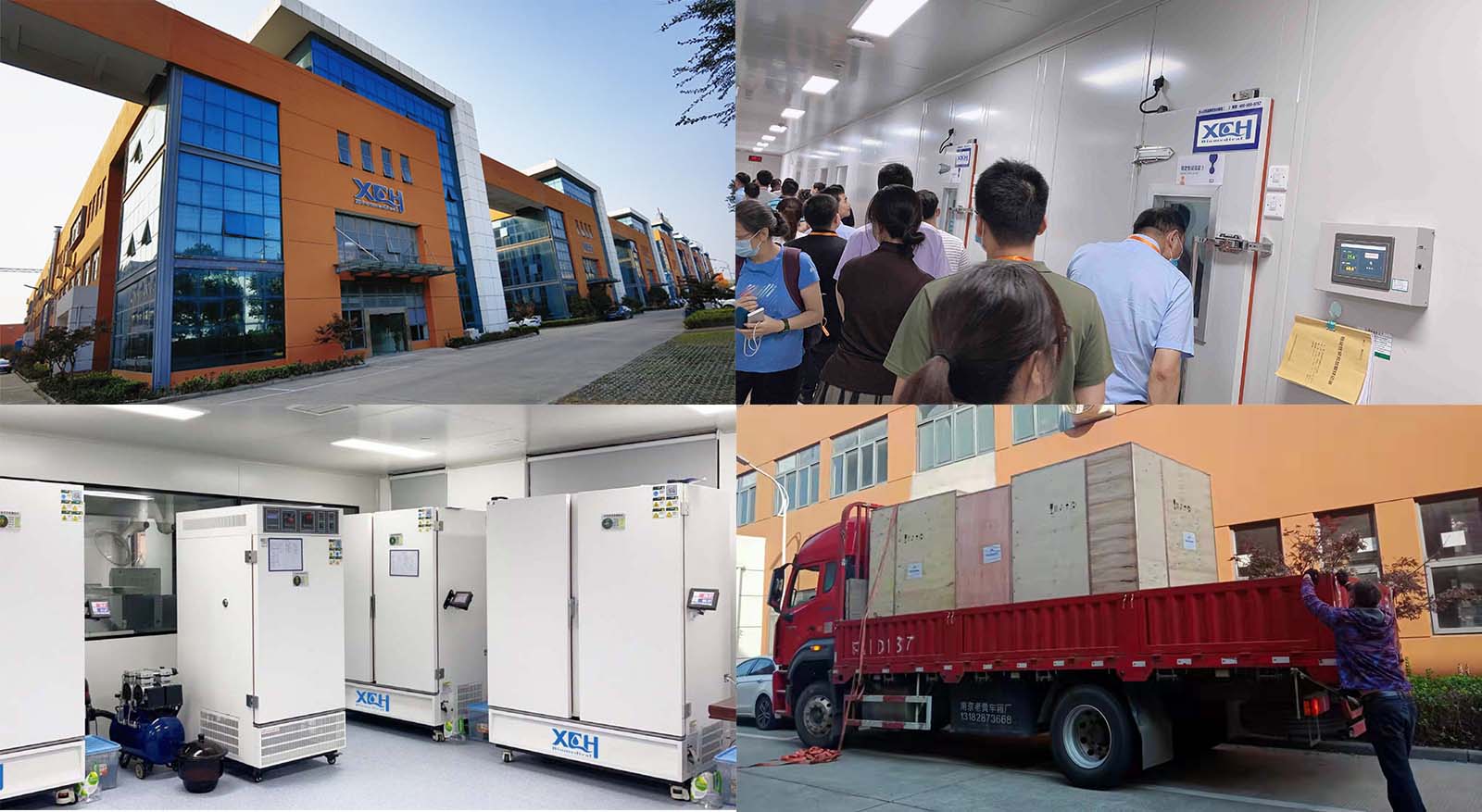 The XCH Biomedical brand test chambers can meet the temperature, humidity and vacuum test requirements of the biomedical field. Using advanced technology and excellent accessories, our products are widely recognized by customers for their stable and qualified performance.
So far, our products and services have been distributed in more than 30 countries around the world, such as the United States, the United Kingdom, etc., and thousands of cooperative companies.
R & D technical team

The company is backed by scientific research institutes, leverages its own talent advantages, and continuously applies the latest results to products. The R&D team led by researchers and PhD in thermal engineering is always serious and rigorous; we understand that you are under pressure to quickly introduce new products to the market. Products must be tested under various conditions to ensure their quality and reliability.


Products & Application

1. Biological field:
Environmental testing of new products using biotechnology. Provide precision equipment for experiments and tests to ensure product reliability.

Application:
XCH Biomedical have biochemical incubator,widely used for research and production departments such as environmental protection, sanitation and epidemic prevention, agriculture, livestock and aquatic products, drug testing, cell culture, etc.
Low Cost Mildew incubator Constant temperature chamber
Water jacketed thermostatic incubator temperature chamber

2. Medical field:
From syringes, vaccines to pacemakers, the medical industry needs to understand the limitations of temperature, use and storage, and the manufacturing and research and development of products need to be strictly controlled. We provide various environmental test chamber and test chamber for stability testing and storage of products or tools in the medical field to ensure effectiveness and reliability.

Application:
XCH Biomedical Environmental Temperature and Humidity Test Chamber as a standard product provides various sizes to meet your needs. Used in temperature and humidity environmental tests of electrical and electronic products, materials, textiles, pharmaceutical packaging, etc.
Double door constant temperature humidity environmental chamber

Single door constant temperature and humidity environmental chamber
XCH Biomedical Stability Test Chamber provides excellent stability testing performance for manufacturers of pharmaceuticals, cosmetics, food and personal care products, in compliance with the International Conference on Harmonization (ICH) guidelines on bulk drug and product storage testing.
Comprehensive medicine stability test chamber
Strong Medicine Photo Stability Test Chamber
XCH Biomedical series refrigerators, including pharmaceutical refrigerator, medical refrigerator, medical freezer, according to different temperatures, it is used for storage and refrigeration of different items.Such as preservation of medicines, reagents, vaccines, biological products, blood products, etc., especially for the stability of temperature-sensitive drugs testing and storage.
Ultra Low Temperature Compact Medical Freezer
Temperature Controlled Medicine Storage Refrigerator for Vaccines and Pharmaceutical Factories

3. Industrial field:
XCH Biomedical laboratory drying oven is divided into Vacuum Drying oven and Electric Thermostatic Air Drying Oven. Vacuum Drying oven is suitable for the drying after degeneration, dehydration, hardening and cleaning treatment in the production process of electronic products. Electric dry heat ovens are suitable for drying, baking, aging test, glassware drying, drying sterilization and processing electronic products in mining enterprises, laboratories, scientific research units, etc.
Electric thermostatic heat treatment hot air lab drying oven
Industrial Laboratory Vacuum Drying Oven with Pump
Certificate